Tips for your travel preparations
Clothing
For trips to a conservative Islamic country such as , special clothing advice is necessary for females. Tight, low cut or cropped T-shirts are just as inappropriate as thin shoulder-strapped or sleeveless shirts, short skirts, hot pants, or leggings. These types of clothes should all be avoided Females should confine themselves to wide clothing with at least elbow length sleeves and ankle-length trouser legs. A headscarf will be essential in the case of visiting a mosque. The dress regulations for men are less strict. One should however, not wear short trousers – shorts are seen here as underwear.
For all those visiting Yemen , it is important to take some sort of headdress and a pair of sunglasses as protection against the sun.
Health
In some regions of the country, cases of malaria continually recur. Even if in general, the stopover is only short, or tourists do not visit such areas, we still recommend that before travelling, one consults a doctor to find out if and how a prophylaxis should be carried out. A first aid kit should contain medicine against travelling sickness and diarrhoea, but in general such problems are easy to avoid if one has adequate to drink and protects ones head against the sun. Lack of fluids and solar radiation are the main cause of complaints made by all travellers visiting Yemen .
Filming and taking photographs
Before commencing on your journey, make sure that you have enough film material. It is indeed possible to purchase all current film formats for photos, but slides are a little more difficult. Sometimes the quality of the material has deteriorated due to improper storage.
If you would like to take photographs of people, then you should always ask them beforehand. Most men and children will probably have no objections, but in general, women do not want to be photographed. If permission is not given, one should respect this decision.
Be careful when taking photos at locations having anything to do with the military. Sometimes the reaction is very sensitive when taking photos at airports or barracks, or of simple checkpoints and military vehicles. Avoid taking such photos thus preventing irritation.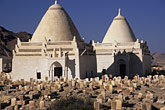 Cementery in Tarim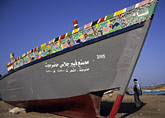 Fishing boat in Tihamah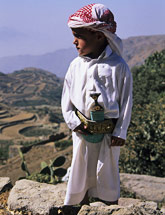 Kid from the north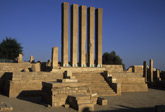 Temple in Marib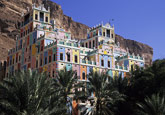 Palace in Wadi Dowan